Urban Renewal projects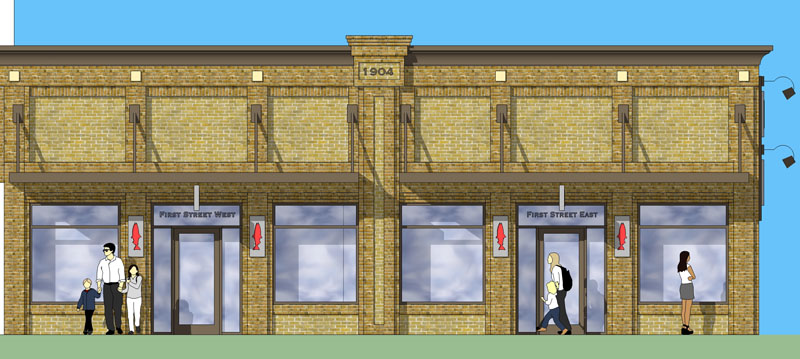 Tillamook, OR 2013
1904 First St facade renovation
Building changes made in the name of "progress" sometimes come up short when scrutinized under the revealing light of time. Beautiful historic facades can be covered over, their beauty locked away for decades until an enthusiastic building owner decides to bring them to light. In Tillamook, Oregon the Tillamook Urban Renewal Agency is working hard to support owners who would like to return their facades to their former glory and help revitalize the character of downtown.

Tillamook, OR 2013
1904 First St facade renovation: before, and remodel
This turn-of-the-century building was originally a furniture store, and saw use as a Model T dealership, clothing store, bicycle shop, apartment complex, video store, and a knicknack shop before being renovated into prime commercial space. Though the structure was of strong, well-built concrete, it was not designed to meet modern earthquake dangers, so we worked with the owner to select seismic retrofit options that gave the best value for their remodel dollar.

Tillamook, OR 2015
312 Main St facade renovation: before, and remodel in historical context
Right on the main avenue though town, this classic structure has languished beneath a false facade of cheap metal for nearly half a century. The owner's vision was to return it to its former glory as a retail space, addressing the town at the street level while opening up the upper level as it was originally, for views and daylighting. The new aesthetic echoes the original from the first decade of the 1900s, while also taking cues from the historic theatre facade next door.